SP Industrial Solutions are as SMART as the Future of AIoT
AIoT is the combined force of two trends that have been dominating the technology industry in recent years: Artificial Intelligence (AI) and the Internet of Things (IoT). The convergence of the two is positioned to redefine the future of industrial automation.
AI + IoT = AIoT
In order to fully understand the concept of AIoT, one must first understand AI and IoT on their own. AI is intelligence demonstrated by machines. It allows machines to learn from experience, adjust to new inputs, and perform human-like tasks. On the other hand, IoT is a giant network of connected devices that gather and share data about how they're used and the environment in which they are operated via embedded sensors. Results are extracted from this data and shared to users for them to make decisions.
AIoT specifically refers to AI and IoT working together. If IoT can be thought of as a central nervous system, then AIoT can be thought of as the brain that makes decisions which control this overall nervous system. Essentially, AIoT takes IoT one step further: with the integration of AI, the IoT can not only sense data, but it can analyze and react to this data, providing intelligent decision-making without human support or intervention.
What are the implications of AIoT?
In the 5G era, AIoT technology will only be enhanced even further to connect every object, person, and machine in a more meaningful way. Pairing these technologies and having them work together will unleash unbelievable insight into machines. In short, this pairing adds a significant capability to connected systems: the ability to act.
AI goes beyond the visualizations by acting on the patterns and correlations from the collected data. Instead of just presenting the facts to humans to enable them to act, AI closes the gap by automatically taking an action. AI is going to supercharge industrial IoT at two different levels. Firstly, it impacts the telemetry data by augmenting the sensors with intelligence. Secondly, AI will be used to analyze the inbound telemetry data stream in real-time or in batch mode. It plugs itself into the start (devices) and the end (analysis) of the IoT spectrum.
Having an intertwined relationship between AI and IoT will help businesses move to the next level. Executive management officials will be able to make firm business decisions based on the valuable insights retrieved from AIoT data. It will also bring enhanced operational efficiency to a business's processes by cutting the need for human support or intervention, which can cause delays when required. From a customer perspective, it will result in more positive customer experiences, as their behaviors and their challenges will be more clearly understood. Finally, it can lead to more accurate predictions, by analyzing both past and current stored data to make smarter future decisions.
How do SP Industrial's solutions meet the demands of AIoT?
Based on the growing amount of data that's being collected since the introduction of AIoT in the 5G era, the demand for smart storage devices is naturally growing as well. To face these demands, SP Industrial offers M.2 2280 NVMe Gen 3x4 SSDs and microSD memory cards that are well-equipped for advanced AIoT technologies. In addition, our complete line of SMART software analysis tools is designed to reduce the possibility of unexpected accidents from occurring in these storage devices.
Since data does not need to return to the cloud for analysis with AIoT, the computing power of edge devices is even more critical in order to deliver fast response times. SP Industrial provides a full range of high-performance M.2 2280 NVMe Gen 3x4 SSDs with maximum capacities of up to 2TB and read/write speeds of up to 3,500MB/s and 3,000MB/s, respectively. These large capacities and impressive speeds, coupled with superior durability, give full play to the computing performance that's demanded by AIoT technologies. The performance of our SSDs helps to boost the power of edge devices and make them indispensable for AIoT.
AIoT has influenced the demand and capabilities of real-time image analysis. Through image capture, a CPU quickly calculates and reacts (think: facial recognition applications). Edge devices for these applications are relatively small and require the use of pSLC microSD memory cards. SP Industrial offers a range of memory cards with blazing fast read and write speeds, as well as long lifespans, up to 30K PE Cycles. Our memory cards also adapt to a wide range of temperature environments, ensuring smooth and stable functionality for edge devices to continuously transfer and store data in real-time.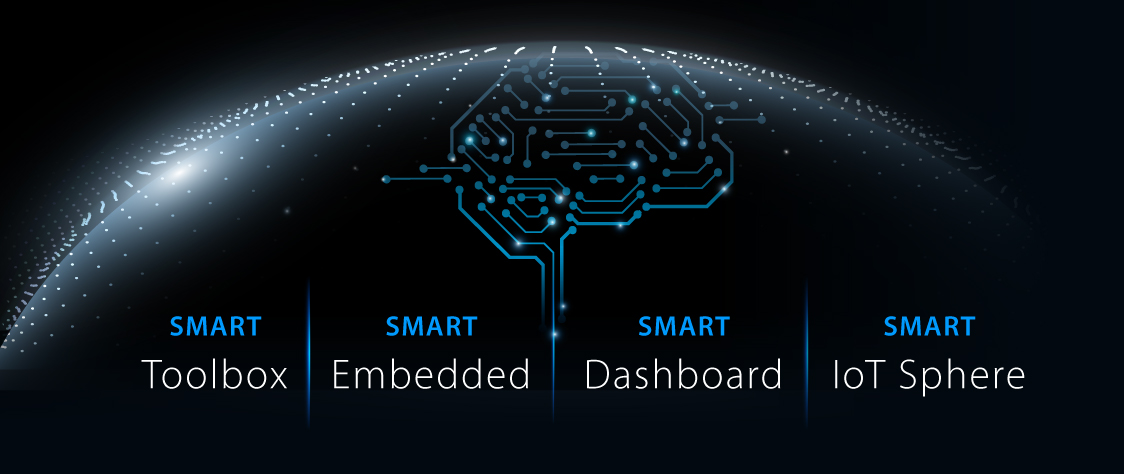 Not only is it important to offer products that are equipped for the demands of AIoT, but also to offer software analysis tools that can provide meaningful insights into these products. SP Industrial offers a complete line of SMART software analysis tools: SP SMART Toolbox, SMART Embedded, SMART Dashboard, and SMART IoT Sphere. These tools monitor the health status of our products at all times, collecting relevant data and information to effectively prevent failures in advance, which is a critical measure for businesses to reduce risks and costs. All four of these software applications pair perfectly well with the theme of AIoT: demonstrating intelligence by analyzing and utilizing information to take action.
Designed for our industrial-grade SSDs and Flash products under Windows or Linux OS, SP SMART Toolbox allows users to check the status of many variables for these products. This includes read/write speed tests, diagnostic scanning, degree of wear and tear, and block health detection. SMART Embedded allows for seamless device integration. It is compatible with Windows, Linux, and Ubuntu OS systems, as well as different CPU platforms, including Intel x86 CPU, ARM-based CPU, and Raspberry Pi. SMART Dashboard, developed under IBM Node Red, monitors SMART information in real-time, allowing for convenient and simple product life management. SMART IoT Sphere is a cloud service with alarm and maintenance notifications that monitors the health and status of SP products inside connected devices. It can perform predictive analysis calculations to prevent or solve down-the-road problems.
Conclusion
In addition to revolutionizing the technology industry, AIoT is also profoundly affecting the lives of everyone at a global scale. In the foreseeable future, this trend will only grow larger and more significant. To adapt to the changes that AIoT is bringing to the world, SP Industrial is securing its place in the future of technology through high-standard industrial-grade products and corresponding services.